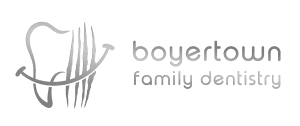 Is Invisalign® right for you?
Orthodontic care usually involves full-mouth braces. But what about patients who do not need extensive orthodontic treatment? This is where Invisalign® clear aligners come in. They are the tasteful, removable and completely customizable solution to traditional teeth straightening.
About the Process
Schedule Your Free Consultation

Every patient who comes to Boyertown Family Dental for Invisalign aligners treatment receives a free consultation with our dentists to determine if they are a good candidate for this therapy.

The Treatment Plan

As customized oral appliances, these clear aligners are designed for your smile. We use 3D imaging to capture images of your mouth and create aligners for every step of your treatment.

Achieve Your Dream Smile!

We recommend strict adherence to your aligner routine for the best results. Consistency is paramount to attain your new smile.
Before & After Treatment
Dr. Jay Valenci, Dr. Dhaval Shah and Dr. Keyur Patoliya want to celebrate our patients' successes! View our results for Invisalign clear aligners in Boyertown, Pennsylvania, below and call 610-367-1511 to schedule a consultation with our team!