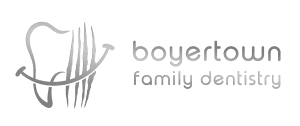 Why Choose Dental Implants?
Missing your teeth can be disappointing and change your smile and quality of life. At Boyertown Family Dental, we believe that every patient deserves the chance to have a fully functional and aesthetically pleasing smile. Our dentists and team aim to restore your ability to talk and eat freely with a permanent dental solution that behaves just like natural teeth.
Single Implant
For those who only have one missing tooth, single implants are the way to go to restore your smile.
Multiple Implant
Dental bridges can be held in place by dental implants, which is perfect for patients who have multiple missing teeth in a row.
All-on-X
Are you missing multiple teeth in the bottom or top arches of your mouth? Four to six implants are used for implant-supported dentures, helping you have a stunning, fixed solution for your smile.
Immediate/Snap-On
For patients who want flexible option, immediate or snap-on dentures are completely removable and can be "snapped" into place over fixed dental implants.
Before & After Treatment
Every success story we have with our dental implants in Boyertown, Pennsylvania, is one more person we have helped attain their dream for a better smile. Dr. Jay Valenci, Dr. Dhaval Shah and Dr. Keyur Patoliya are thrilled to feature our results here and invite you to learn more about our patients' experiences. Contact us at 610-367-1511 if you have any questions.